On Oct 9th Lori Ann and I set from our home to San Diego for the Sea to Sea Safari, a trip that a week prior I was ready to cancel out of frustration with my buggy. Lori Ann had endured a lot and finally called in a re-enforcer to get me back on track.(Thanks again Scott Drolet) With motivation we embarked on the journey and within 1 mile from home on the fwy we encountered pouring rain, this was gonna be a long, wet 3 hour drive to SD.
We could only laugh. It also became quite clear that people thought we were nuts, but on we trekked. Upon arrival in SD we started meeting up with other Safarians, club members we know, some we didn't and others we were keeping track of on their journey from the east coast. We started to get to know each other in the Hotel parking lot and continued at dinner. We all gathered at beach the next morning and met some more participants and some well wishers.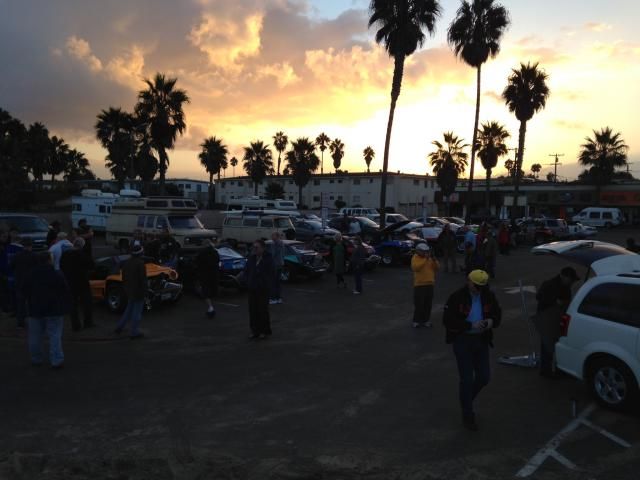 On the road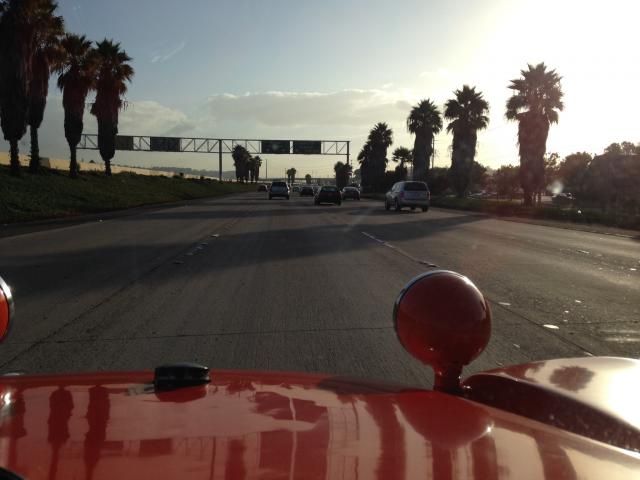 14 Sea to Sea buggy's and 3 chase cars loaded up and headed east. The weather was looking good but as most of you know there were a few buggy issues on the 1st day. At our 1st overnight location we stopped in at Chirco Perfomance in Tuscon where there was a very welcoming crowd on hand to greet us, wow that was cool. Day 2-13 buggy's, 4 chase cars(1 buggy in tow as planned), 2 support 5th wheel toy haulers(buggy's inside) headed to Roswell NM with a few more bugs to iron out on the tow'ds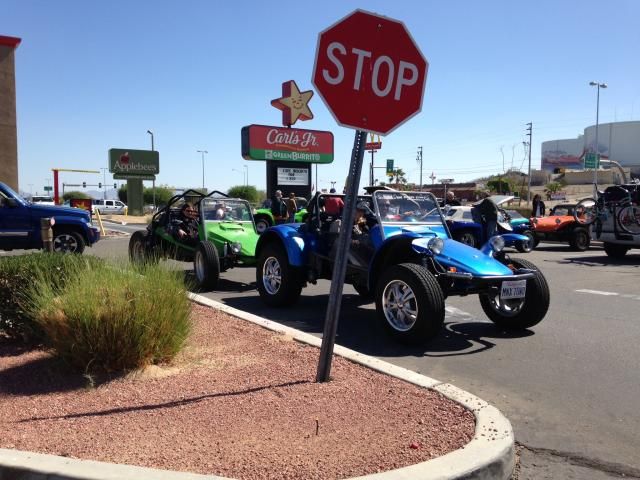 Day 2 was long and ended in the dark


Of course what would a trip to Roswell be without an alien encounter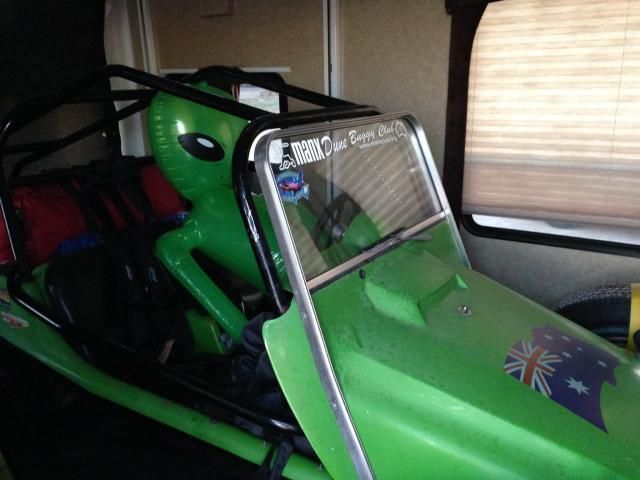 Upon arrival in Oklahoma City we were greeted by people that had traveled for hours and stayed overnight to see us, including the needed parts for the green tow'd ordered thru postings on forums online while we were driving from Roswell. wow modern technology. We stopped and visited the 1995 Oklahoma City bombing memorial.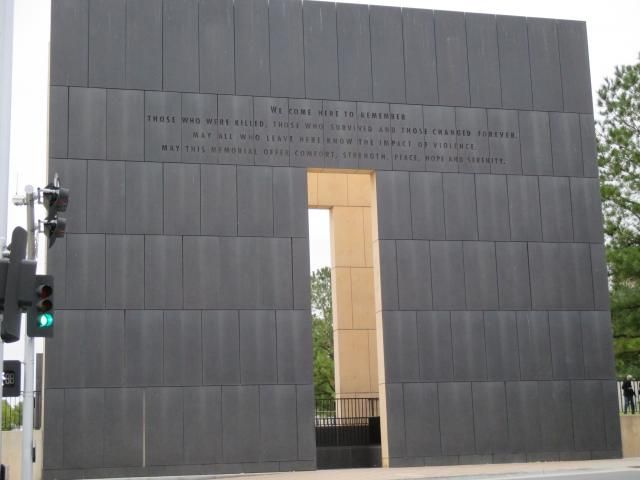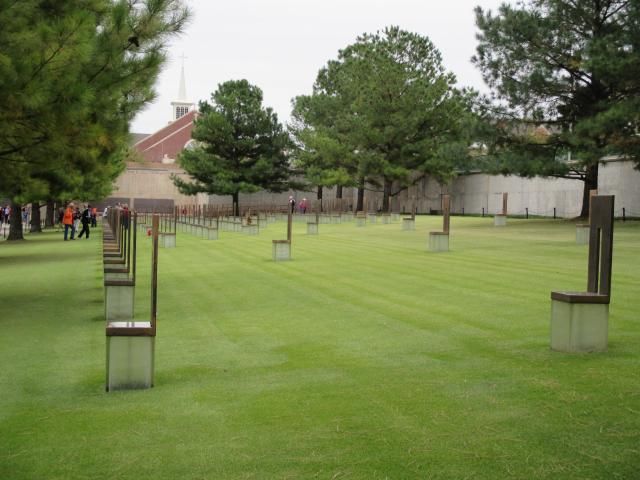 back on the road it appeared we had the vehicle gremlins under control (until my cb antenna broke) and we figured out how to travel as a group.


with Bruce and Winnie's car down, Bruce picked a different buggy every day to ride in, what buggy owner in his right mind would refuse! I won the lottery!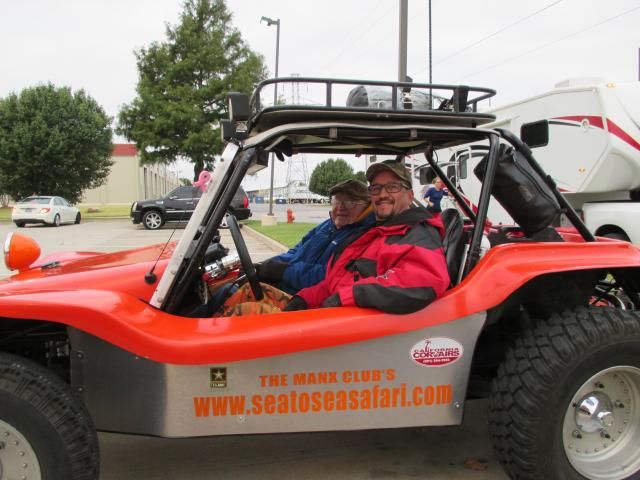 We stopped at Graceland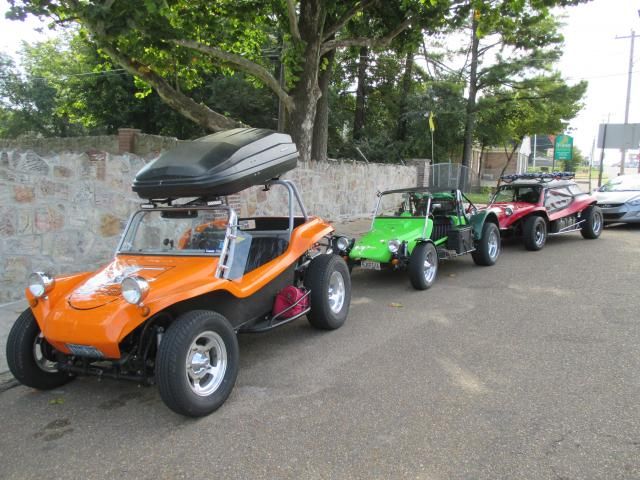 I rode in an Australia bound tow'd with Andrew


While Lori Ann drove with Eileen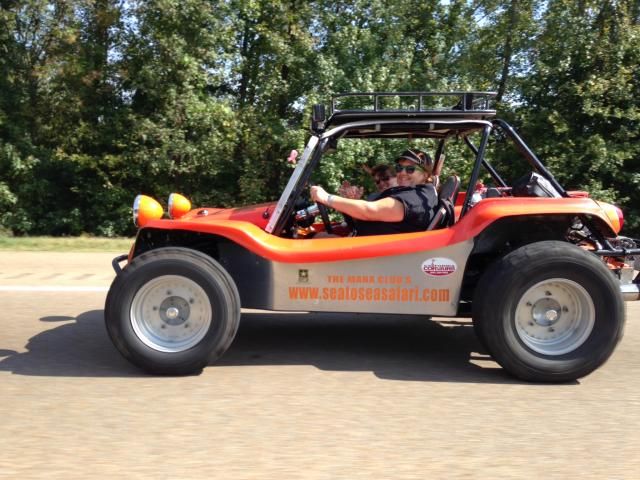 stopped at the Nashville American Pickers store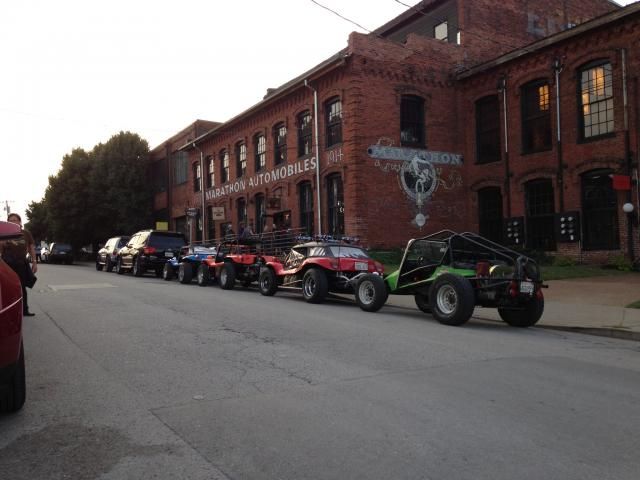 but didn't buy anything. Almost to the finish line we entered North Carolina


Along the last leg we were greeted along the road by the Manx on the Banx group. We then ended this journey at Jeanette's Pier in Nags Head NC(only down 1 buggy). for me 2811 miles garage to Pacific to Atlantic. Including the MOTB event 3144 miles in 11 days, a drop in the bucket compared to others but my mission accomplished.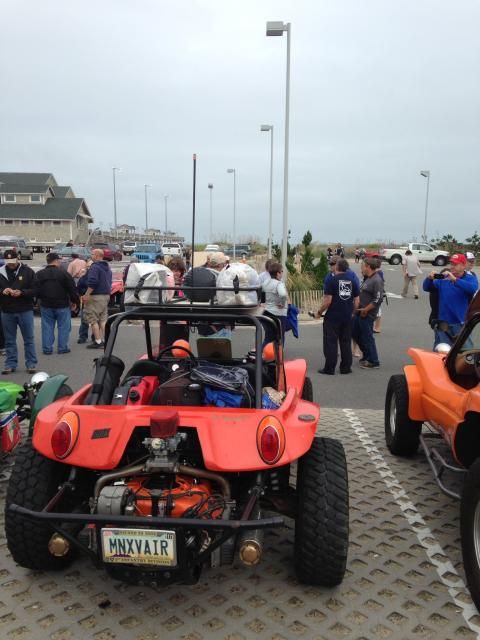 So much more was experienced then I could put in this forum. From the deserts of the southwest, mountains of New Mexico, the FLAT! Texas panhandle, along some big Lakes in Arkansas and thru the beautiful smokey mountains to the outer banks of North Carolina what a beautiful country we live in. This trip exceeded any expectations! people came and greeted us at every overnight stop some with gifts and awards, some traveling for several hours and staying the night to return home the next day, some joining us on Safari. All along the way when we were stopped we were approached and asked for photo's, some with Bruce, some with their kids in the buggy of their choice, cars passing us would take pictures, we would smile and wave, their faces would light up and they would wave back, definitely more "smiles per miles". It is hard to put into words an experience like this one, the value of the friendships made is unmeasurable, for me the Sea to Sea Safari was an experience of a lifetime.   Thanks to my fellow Safarians and Thanks to France & Vincent whose inspiration and knowledge made this all possible and enjoyable.
Wow, What a Ride!
Lori Ann-Tow'd (under construction)
Mike-Manxvair
Manxclub #957, RBC, DSB
Simi Valley, Calif
www.seatoseasafari.com